SUBURBAN SHELTERS & URBAN GARAGES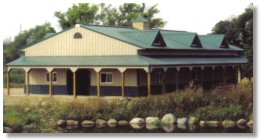 As you can see, there's a Wick building to meet just about any suburban or country homeowner's needs. Wick offers a wide variety of storage facilities; if you want to protect recreational vehicles or boats, garden tractors or valuable tools, Wick has the shelter that's just right for you.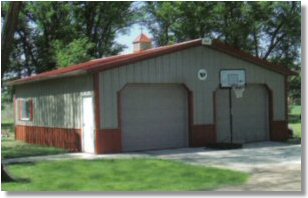 Wick also offers a wide variety of designs, from standard car and truck garages to storage structures and specialty buildings. Better yet, these sturdy buildings can be outfitted to house workshops, create hobby space, display antique autos, shelter pets...your options are limited only by your imagination.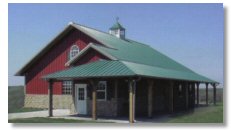 Throughout the greater midwest, owners of suburban and country home sites have discovered Wick Buildings. And for good reason - buildings designed and constructed by Wick meet the highest industry standards. They are beautiful, convenient, versatile...and built to last.
You can choose features, such as eave lites, windows and doors that are ideal for your particular needs. Wick buildings can also be insulated for year-round comfort. To this end, Wick offers 2" X 4" and 2" X 6" stud wall designs. These are well suited for any Wick building that requires sidewall insulation and interior liners. Studwall construction is also used with concrete foundations.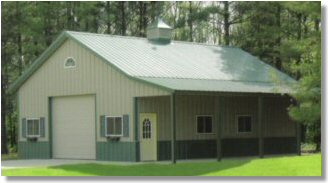 This is where form meets function. Wick Buildings proudly offers the Attic Truss Series. These aesthetically pleasing, functional buildings offer storage with style. With their steeper roof pitches, these versatile buildings blend well with today's architectural styles, making them at home in the suburban landscape or in a pretty country setting.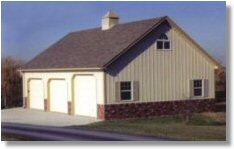 This innovative design offers additional space to use for living quarters, office space or storage of any kind, all without increasing the base size of the building. Wick Buildings offers an enormous variety of options for insulation, interior finishes and lighting. Wick can customize your building to meet your needs and exceed your expectations.
In addition, Wick offers flushwall buildings with the same insulation and liner options. This increases your selection still further. You have many choices when it comes to siding, roofing, and color. Path Construction, Inc. will help you select the ones that are appropriate for your site.